Pianist's official website
Archive for the 'All' Category
Violoncelliste français, ancien élève de Mstislav Rostropovich au Conservatoire de Moscou.
Il gagne le premier prix du concours international de Munich et devient professeur à l'Institut Gnessine à Moscou.
Né à Bakou, il quitte l'URSS en 1974 et s'établit à Paris. Les critiques sont unanimes à reconnaître en lui l'un des maîtres du violoncelle.
Tout en dominant le répertoire classique, il est passionné d'œuvres à découvrir et ardent défenseur de la musique de notre siècle: H. Dutilleux, S. Gubajdullina, A. Rabinovitch,
H. Sauguet, J. Dorfman, A. Schnittke.
Mark Drobinsky a joué sous la baguette d'immenses chefs d`orchestre: Valery Gergiev, Mstislav Rostropovitch, Saulius Sondetskiss, Eduardo Mata, Charles Dutoit, Alexandre Rabinovich, Dmitri Liss, Arnold Katz, Maxime Schostakovitch etc…
Il s'est produit lors de tournées en Allemagne, Belgique, Espagne, France, Pologne, Italie, Russie et Suisse avec de nombreuxrchestres et il a aussi des récitals de musique de chambre donné des concerts avec Martha Argerich, Renaud Capuçon, Alexandre Rabinovitch, Dora Schwarzberg, Mischa Maisky, Lilya Zilberstein…
Sa discographie est très riche (Milhaud, Saint-Saëns, Chostakovitch et Veinberg avec l'Orchestre de la Radio Suédoise et l'Orchestre Symphonique d'Oural, musique de chambre avec la star mondiale Martha Argerich…) et son enregistrement comprenant notamment la Sonate d'Adolf Biarent, a reçu le prix « Top Prize Winner » au MIDEM de Cannes en 2003.
Mark Drobinsky joue le violoncelle de Carlo Antonio Testore, de 1748.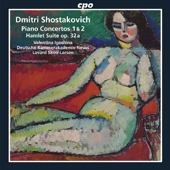 August 2012
 "…Engaging Concerto performances, alert to the First's mischievous wit and the Second's charming lyricism…" 
Awards Issue 2012
 "…Igoshina plays the two Shostakovich piano concertos with technical aplomb, an abundance of colour and spacious phrasing…"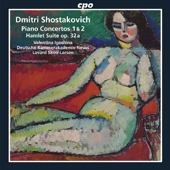 DMITRI SHOSTAKOVICH - Piano Concertos 1 & 2 - Valentina Igoshina (Piano) - Lavard Skou-Larsen (Conductor)
German Chamber Academy Neuss - 761203775026 - Released: June 2012 - CPO 777750-2
Let me start this review by simply saying this: Those of you who may not have heard much of Dmitri Shostakovich's musical output, or after hearing his wartime symphonies and late quartets have dismissed his music as being overly sardonic, cynical and pessimistic, should consider giving his two Piano Concertos a permanent diurnal rotation in your CD player. Once you've heard and assimilated the various unusual aspects of these two distinctly different works, you may further understand and appreciate what made Shostakovich tic. Or more emphatically, once you've heard the strangely beautiful, romantically shaded and enigmatic Andante middle movement of his Piano Concerto No. 2 in F major, Op. 102 you may never see Shostakovich in the same light again. And in this new recording, pianist Valentina Igoshina, to some extent a newcomer to recordings, delivers a sublime account of this movement in particular, merging beauty, pathos and tenderness perfectly. As in the slow movement of Beethoven's 'Emperor' piano concerto which I believe this music emulates, following a soft string introduction, the piano enters, as if from nowhere, not with a distinct melody, but rather with a tentative progression of notes as if a memory from a distant past. Valentina Igoshina savors every note, and emphasizes the beautiful triplet, three-against-two rhythmic patterns that lend this music its flowing momentum.
The Concerto for Piano, Trumpet and String Orchestra No. 1 in C minor, Op. 35 was composed in 1933 and written with a very specific performer in mind. Himself. It requires more technical dazzle on the part of the soloist(s), piano and trumpet, along with a hefty dose of comic relief. It contains all of the usual Shostakovich trademarks including his inclination to combine the darkly serious with pure vaudeville. Both Valentina Igoshina and Thomas Hammes (trumpet), indulge in the schizoid extremes. They do a wonderful job exposing the grim side of the slow movement, and are even better at fleshing out the final movement's three-ring circus pranks and antics.
The Piano Concerto No. 2 in F major, Op. 102 on the other hand, was written for his son Maxim Shostakovich, and presents a more traditional layout than the first. In fact, a few segments of the opening movement invite comparison to Rachmaninov, with the usual Dmitri twists. The second movement, as mentioned above, is quite simply one of the most beautiful moments in music, especially when one considers the source. You would be hard-pressed to find it better played than in this recording. Pure, absolute, unadulterated Shostakovich returns for the final movement. Igoshina's accents and dynamics are precisely judged, and conductor Lavard Skou-Larsen's support helps reinforce the music's uproarious mix of technical dazzle and joyful energy.
Sandwiched in between the two concertos is the original 1932 version of the Suite from the Incidental Music "Hamlet", Op. 32a, which not only creates a great buffer between the two main works, but also further exemplifies this composer's versatility. It also pushes the total time of this CD over the 70 minute mark.
Jean-Yves Duperron - August 2012
Russian piano virtuosa Valentina Igoshina joins Brandon Christensen in a concert to benefit Southeast's Instrument Initiative piano fund 
Masterworks
Click here

 to view information on 2012-2013 subscription opportunities.
Individual show tickets on sale now!

Classical Favorites #1
Guest Artist: Valentina Igoshina, piano
Stravinsky: Infernal Dance, Lullaby and Finale from "The Firebird"
Mussorgsky-Ravel: Pictures At An Exhibition
Rachmaninoff: Piano Concerto No. 2 in C minor, Op. 18
Star of Tony Palmer's films on Chopin, Ms. Igoshina is considered to be one of today's most outstanding Russian classical pianists. She is a winner of the Rubenstein Competition (Poland), the Rachmaninoff Competition (Moscow) and has over 1 million hits on YouTube.
" immaculate dexterity and no less impeccable poetry and style"
- Bryce Morrison, Gramophone
Conducted by Dr. Robert Hart Baker

Valentina Igoshina, légère et pianiste guerrière
Dans le cadre des concerts de poche, Valentina Igoshina, pianiste russe rend hommage à Brigitte Engerer une autre grande pianiste disparue trop tôt. Découvrir les plus belles œuvres du répertoire classique est un instant béni des dieux. Depuis 2010, l'association « Les Concerts de Poche » dépose ses valises dans les bourgs et les petites communes du département. Une découverte pour les néophytes et un vrai bonheur pour les plus avertis.
De la mélodie aux soupirs
Installés dans la salle Hennebelle les spectateurs attendent l'artiste comme le messie, car on ne vient pas au concert par hasard. Alors que la frêle silhouette de l'artiste se dessine dans l'obscurité, le silence envahit l'endroit.
Avec Chopin, la jeune femme devient légère puis guerrière. Avec Chopin l'artiste passe de la mélodie, aux soupirs ou à la danse à trois temps. Au milieu de la prestation l'imagination laisse le temps s'épanouir. Après une courte pause, dans le public, les jeunes musiciens en stage à l'abbaye de Saint-Michel, plus ceux de l'harmonie communale retrouvent leurs places. Cette soirée est pour eux exceptionnelle. Le compositeur Modeste Moussorgski permet à Valentina de mettre en scène différents tableaux d'une exposition.
Les mains de la jolie blonde courent, glissent, taquinent tendrement… le clavier en laissant exploser des notes inexistantes, des mélodies irréalisables et des chefs-d'œuvre, insaisissables. Avec Valentina Igoshina c'est un concerto de sensations qui se prolonge dans la nuit.
Monik BOURLARD
Un dernier hommage à

 

Brigitte Engerer
Au piano, en solo, la pianiste Valentina Igoshina a rendu un vibrant hommage à la pianiste Brigitte Engerer, mercredi soir à la salle Hennebelle. Ce concert-hommage, organisé, dans une belle harmonie, par les Concerts de   poche, le conseil général de l'Aisne, la communauté de communes de la Thiérache du centre et la municipalité, a rassemblé un auditoire composé de 160 mélomanes dont 80 jeunes issus de l'atelier d'orchestre en stage à l'abbaye de Saint-Michel. 
L'immense pianiste russe, Valentina Igoshina, les doigts particulièrement déliés et inspirés, a interprété des oeuvres de Chopin, valses, polonaise et nocturne et les Tableaux d'une exposition de Modeste Moussorgski, tout en rendant un émouvant hommage à une autre pianiste immense, Brigitte Engerer, à l'origine retenue pour ce concert de piano, mais décédée le 23 juin dernier (notre édition de mercredi). 
Une rencontre musicale de qualité supérieure. • 
La Voix Du Nord (12 juillet 2012)
Concert-hommage à Brigitte ENGERER
Chopin, Moussorgski
le 04 Juillet 2012 à 20h30 ,
Salle Hennebelle – rue des Poilus de Verdun
La Capelle (02)
Prix des places : 7 € et 5 € tarif réduit.
Réservations : 03 23 97 52 00
"C'est avec une grande émotion que l'immense pianiste russe Valentina IGOSHINA donnera un concert-hommage à Brigitte ENGERER le mercredi 4 juillet à 20h30  à la salle Hennebelle de La Capelle. Elle interprètera les œuvres que Brigitte ENGERER avait prévu de jouer, à savoir "Les Tableaux d'une Exposition" de Moussorgski et certaines des plus grandes œuvres de Chopin."
(Les Concerts de Poche)