Pianist's official website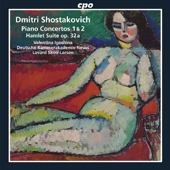 August 2012
 "…Engaging Concerto performances, alert to the First's mischievous wit and the Second's charming lyricism…" 
Awards Issue 2012
 "…Igoshina plays the two Shostakovich piano concertos with technical aplomb, an abundance of colour and spacious phrasing…"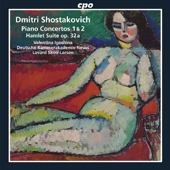 DMITRI SHOSTAKOVICH - Piano Concertos 1 & 2 - Valentina Igoshina (Piano) - Lavard Skou-Larsen (Conductor)
German Chamber Academy Neuss - 761203775026 - Released: June 2012 - CPO 777750-2
Let me start this review by simply saying this: Those of you who may not have heard much of Dmitri Shostakovich's musical output, or after hearing his wartime symphonies and late quartets have dismissed his music as being overly sardonic, cynical and pessimistic, should consider giving his two Piano Concertos a permanent diurnal rotation in your CD player. Once you've heard and assimilated the various unusual aspects of these two distinctly different works, you may further understand and appreciate what made Shostakovich tic. Or more emphatically, once you've heard the strangely beautiful, romantically shaded and enigmatic Andante middle movement of his Piano Concerto No. 2 in F major, Op. 102 you may never see Shostakovich in the same light again. And in this new recording, pianist Valentina Igoshina, to some extent a newcomer to recordings, delivers a sublime account of this movement in particular, merging beauty, pathos and tenderness perfectly. As in the slow movement of Beethoven's 'Emperor' piano concerto which I believe this music emulates, following a soft string introduction, the piano enters, as if from nowhere, not with a distinct melody, but rather with a tentative progression of notes as if a memory from a distant past. Valentina Igoshina savors every note, and emphasizes the beautiful triplet, three-against-two rhythmic patterns that lend this music its flowing momentum.
The Concerto for Piano, Trumpet and String Orchestra No. 1 in C minor, Op. 35 was composed in 1933 and written with a very specific performer in mind. Himself. It requires more technical dazzle on the part of the soloist(s), piano and trumpet, along with a hefty dose of comic relief. It contains all of the usual Shostakovich trademarks including his inclination to combine the darkly serious with pure vaudeville. Both Valentina Igoshina and Thomas Hammes (trumpet), indulge in the schizoid extremes. They do a wonderful job exposing the grim side of the slow movement, and are even better at fleshing out the final movement's three-ring circus pranks and antics.
The Piano Concerto No. 2 in F major, Op. 102 on the other hand, was written for his son Maxim Shostakovich, and presents a more traditional layout than the first. In fact, a few segments of the opening movement invite comparison to Rachmaninov, with the usual Dmitri twists. The second movement, as mentioned above, is quite simply one of the most beautiful moments in music, especially when one considers the source. You would be hard-pressed to find it better played than in this recording. Pure, absolute, unadulterated Shostakovich returns for the final movement. Igoshina's accents and dynamics are precisely judged, and conductor Lavard Skou-Larsen's support helps reinforce the music's uproarious mix of technical dazzle and joyful energy.
Sandwiched in between the two concertos is the original 1932 version of the Suite from the Incidental Music "Hamlet", Op. 32a, which not only creates a great buffer between the two main works, but also further exemplifies this composer's versatility. It also pushes the total time of this CD over the 70 minute mark.
Jean-Yves Duperron - August 2012